**Some of the links in this post are "affiliate links." This means if you click on the link and purchase the item, I will receive an affiliate commission at no extra cost to you. Regardless, I only recommend products or services I use personally and believe will add value to my readers.**
What is nesting?
Nesting, as defined by Collin's English dictionary is: Noun; the tendency to arrange one's immediate surroundings, such as a work station, to create a place where one feels secure, comfortable, or in control.  When speaking of pregnancy, we are talking about making your home feel secure and comfortable for your baby-to-be.  This can be accomplished in many different ways, such as cleaning the entire house, setting up the nursery, and arranging (and re-arranging) baby's clothes and belongings.
I started nesting about mid-way through the second trimester and had everything finished and prepared for baby before the third trimester even started.  Most women don't start until the third trimester, so don't feel like you are inferior in any way if you are almost finished your second trimester and haven't started nesting.  It just so happened that when I was nesting was the beginning of spring weather, and what happens when the weather gets nice?  Spring Cleaning.  I got to kill two birds with one stone.
It all started one weekend when I was about 18 weeks along, and had the most random burst of energy.  The baby's room needed to be painted a week ago.  We had picked a colour a few weeks earlier, we went with a beautiful, bright teal which would go well with the dark furniture we had in there already.  A trip to the hardware store and half hour of cleaning later, my mom and I were hard at work painting the walls.  My mom just so happened to be visiting at the time, and she doesn't mind painting, especially for her first granddaughter. The crib had been put together previously, so once the painting was finished (at around 20 weeks), the room really started to come together.  The dark furniture popped against the bright walls, and I really started to get excited.
There were a few benefits to doing this so early, the dog got used to all the strange stuff around the house, and it made everything so much calmer when you walked into the nursery.  Next on the list was to put all the baby's stuff where it actually belongs (before we were basically just throwing things in the room where ever they would fit).  We started with clothes, since they could be hidden the easiest.  Washing everything and putting them away according to size and type of clothing.  Onsies in the drawers, sleepers and fancier clothes in the closet.
We did the same with the sheets, receiving blankets and stuffed animals.  Then came time for setting up the diaper changing table.  We opted for not buying a separate change table, and instead, just buying a change pad and putting it on the dresser that we already had in the nursery.  We secured it with some non-slip between the pad and the dresser top so it doesn't slide around.  We left the top drawer open for all the diaper-changing essentials.  Currently, as you can see in the picture below, we have more than one kind of diaper cream, wipe and size of diaper in the drawer as we do not know which will work or fit better for our baby.  You may choose to only put one kind and size, and switch it out completely if it doesn't work for your baby.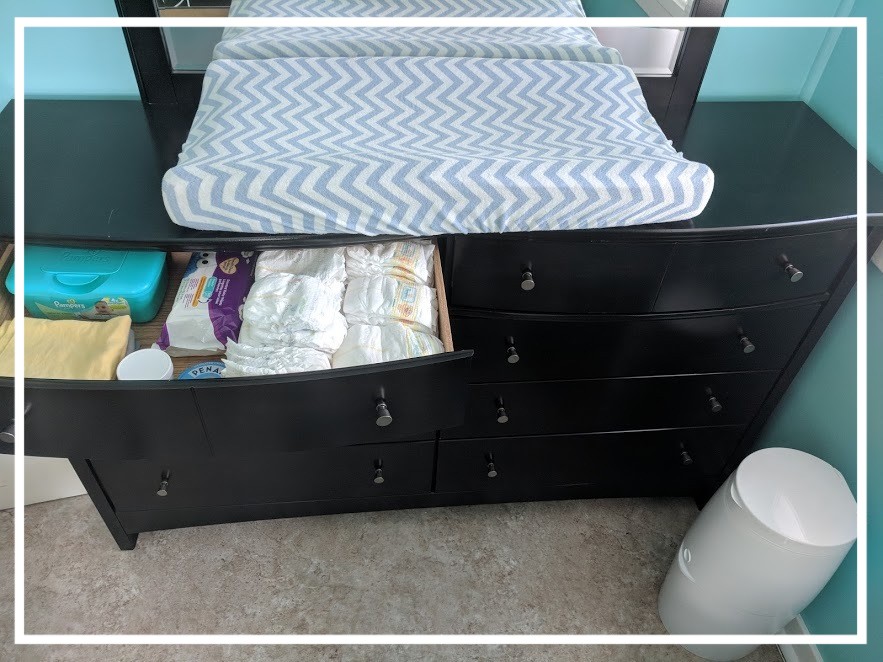 Once everything had been washed, put away, assembled and hung on the walls there still seemed to be something missing.  It had been bothering me for a few weeks already, but I just couldn't figure it out (I blame pregnancy brain).  Then, as we were walking through Lowe's, I saw it.  A rug.  The nursery just didn't feel cozy enough with laminate floors.
Note: If you plan on buying a rug for your nursery, be sure to buy it early enough that you can get the factory smell out of it – for us, it took about 2 weeks and 6 once overs with the vacuum.
Now that the nursery is complete, I feel like I am more prepared than ever for the baby to come.